Pork spare ribs and fried rice what nicer combination is there? And to top it all off my children cooked it for usJ. I just love that the kids enjoy to cook and are willing to cook an evening meal for us (and I didn't have to ask them, they just came up to me and said that this is what they were cooking for dinner). When a child is willing and enthusiastic to do something, you need to nurture that energy and provide them with the right materials for them to move ahead and develop their skills. Oh and of course I was willing to have a night of cooking.
PORK SPARE RIBS
This was a simple marinade that we often wack together for chicken and pork. For this recipe the pork marinated all day in,
Sweet chilli sauce
Whistershire sauce GF
Soy sauce GF
We don't have any measurements for the amount of each sauce but you do need enough to coat the ribs.
When it is time to cook the ribs you can do this on either a fry pan or on the BBQ, but please be careful not to burn the marinade.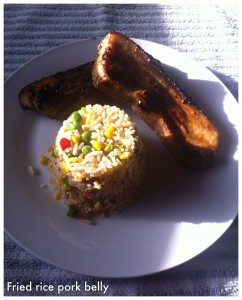 FRIED RICE
Rice cooked in the Thermomix according to the instructions in the everyday cook book. Once cooked it was put aside to cool while the other ingredients were being prepped. The other ingredients were beacon pieces, egg and a packet of frozen veg.
In a wok place some coconut oil to prevent too much sticking and allow it to heat up. Then add your egg that has been gently whisked together and allow it to almost cook before you give it a gentle stir and allow it to cook all the way through. Now that you egg is cooked put it into a bowl and set aside while you cook the beacon pieces and heat through the veg. When the veg is heated start mixing in your rice a little at a time so that it separates and starts to fry. After all the rice is added you can now add the egg and mix it through. All you have to do now is serve it all up on a plate and enjoy your hard work. J