Wow what an amazing 3 days we have had. It all started at Warnambool Vic where we started our journey along the Great Ocean Road.  There is one little twist to this 3 day journey along this well known stretch of road and that is Mr Lucas Lifestyle rode it on a push bike. That's right you are reading this correctly, he hopped on his push bike in Warnambool and under his own steam peddled for 67Km and ended up in Port Campbell. Day 2 was a much harder and longer day for Mr Lucas Lifestyle with a 98Km uphill ride ending in Apollo Bay. Day 3 was a little shorter and not quite as hard as day 2 with only 90Km and not as much uphill with the day ending in Torquey. Matt will post a full count on this ride in the next few days (after he recovers).
Berries!!! Berries remind me so much of the Christmas holidays, the hot sun and refreshing cold berries for an afternoon snack or desert. So when opportunity came knocking at the door to go and pick some fresh strawberries and blackberries we all jumped at it. Berry picking took place at the end of day 1 of Matt's ride. We took a quick little 15min drive inland to a town called Timboon, and headed out to the berry farm. We were greeted by the owners of the farm, an elderly couple in their 70's. They had owned the farm for around 20 years and were very knowledgeable. At $8.50 a Kg we just couldn't help ourselves and picked over a Kg of fresh berries, we where even permitted to have a little sample while we were picking. The biggest berry of the day went to Tiana who picked a 96g strawberry, and it was sweet and tasty. So with fresh berries and a look around the area we headed on home to our van where we had this divine fresh fruit salad and custard for desert.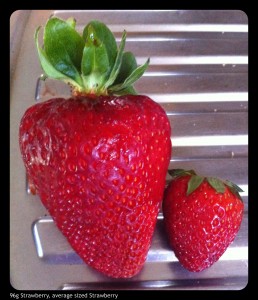 Fresh strawberries
Fresh blackberries
Fresh Mango
Halve the strawberries and place them in a bowl, then spread the blackberries over the top. Cut the checks of the mango and scoop it from the skin, dice and add it to the berry mix. Mix gently and serve with custard. It's so refreshing and yummy!