Ok here is something ridiculously simple yet it is one of my favourite lunches.  This one is good for the working person that needs to get lunch ready quickly or for those that want a quick fix for dinner.  I often have this for lunch at work where I am the generally the only one there and need to answer phones and serve customers.
Veg and Tuna
1 bowl of frozen vegies
1 small can of tuna
Herbamare seasoning
Heat the bowl of vegies to desired temperature.  Season with Herbamare seasoning and then place the can of tuna on the top.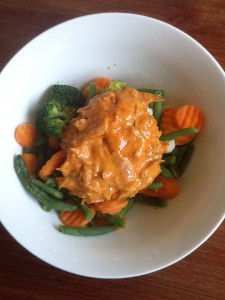 It's as easy as that, now all you have to do is find the time to eat it.