I would like to ask you this question.  Whose kids love to cook and create their own food?  Mine do, our eldest loves to cook. I think she gets this from her granny and a little from me, our middle daughter just loves food and our youngest is just coming of age to do most things by herself. With three girls into food and cooking means I don't have to prepare all the family dinners, and as of late our oldest daughter has been making us the most simple yet delicious pasta rocket salad. I think she got the idea from a supermarket website and changed it a little to fit into our diet.
Going off the salad topic for just a little bit. It will fit in eventually but this story needs to go back a few days so that I can catch you up on the full story. FIGS!! I just love fresh figs. My husband and children just don't share my enthusiasm for them but they do like them (not everyone can be as good as me). Well where we are staying at the moment there is a big public fig tree (what a find) and it is fig season (even better find). So every couple of days we have been going down to this tree and picking fresh figs. Everything we have been eating has figs in it which gets me back to Natalia's pasta rocket salad (now with fig). What a great taste match, rocket and fig. I hope you all try this recipe it is so fresh and easy.
Pasta rocket salad with fig
GF pasta
Rocket
Cherry tomatoes halved
Chicken
Figs
DRESSING
Sweet chilli sauce
Lemon juice
Crushed garlic
First you need to cook your chicken I use any pice of chicken with no bones and cut it into strips or dice and season with Herbamare . Set your chicken aside to cool and cook your pasta as per their instructions.
Add the rest of the ingredients into a salad bowl. Once the pasta is cooked and you have drained it add it to the salad bowl and mix well without breaking your pasta. When you are ready to serve, drizzle with your dressing and enjoy.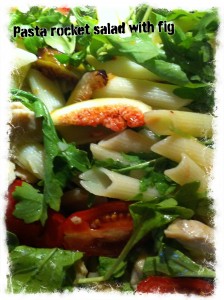 I was thinking that instead of figs you could add mango, or even spiced poached pear.
So simple yet really exquisite. Hope you all enjoy it.