Happy Easter every one. Here is a easy recipe for you to whip on this long weekend.
430g GF Plain Flour
2 ¼ tsp Guar Gum
1 Tbs coconut sugar
7g Yeast
1 tsp cinnamon
1 tsp Nutmeg
¼ cup Saltaners
¼ cup Cranberries
¼ cup DF Chocolate chips
¼ cup Coconut Oil
2 eggs
1 tsp Apple Cider
1 ¼ cup Warm water
Place all the dry ingredients into the TM bowl and combine 10 sec / speed 3.
Add the rest of the ingredients and combine 1 min / closed lid / dough.
Tip out your dough onto the dough mat and divide into 16 equal portions, then shape and place on your oven tray.
Cover the shaped buns with the dough mat and allow them to rise for an hour in a warm position.
Before the hour is up turn on your oven to pre-heat to 150 degrees.
Bake your buns for 15 – 20 minutes. Or until golden on top.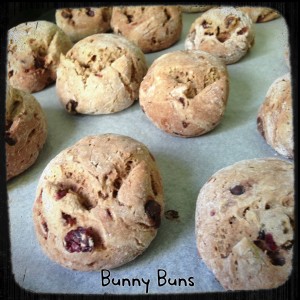 These buns are just divine straight out of the oven with a little coconut oil or honey. 🙂
We hope you have a safe and enjoyable Easter.