Ahh donuts, they bring back so many fabulous memories of when my kids were babies and after having story time at our local library we would head over to the shops and have fresh hot cinnamon donuts as our treat for the week.  Even now as I walk past the fresh donut shops I think gee I would love one of them right now J.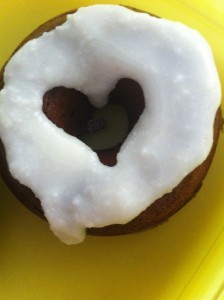 1 cup (120g) Almonds
1 egg
2 tsp Honey
½  tsp Vanilla concentrate
¼ tsp Bi-Carb soda
¼ tsp Baking Powder GF
2 Tbs Cocoa Powder
½ Cup coconut milk
Add the Almonds to the TM bowl 1 min / speed 8.  Scrape down the sides and repeat till you reach a nut butter consistency.  You may find doing it in 20 or 30 sec blocks works better for you.  Time will vary depending on the oil content of the nut.
Once you have formed a nut butter you then need to add the rest of your ingredients to the TM bowl and mix 1 min / speed 4.
Place you mixture into a pre oiled doughnut tray and back in the oven at 175 degrees for 15 min.
Allow the donuts to cool for around 10 min in the tray then take them out and allow to fully cool on a cooling rack. Or you could eat them while still warm
Once your donuts are cool you can then ice them if you wish. I iced mine with coconut butter.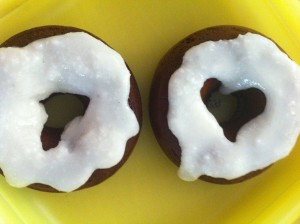 'Original recipe from The Spunky Coconut'