MANGO MADNESS
Well it's mango madness time of the year here in the tropics and I sure am loving all these fresh mangoes. Most years we freeze a whole heap of mango cheeks and use them throughout the year, but this year we won't have the freezer space so we are in overdrive drying as many as we can.
We can't dry all the mangos, we do have to eat them fresh as well. Fresh mango and cherry salad with coconut cream seems to be on the cards for me most days for afternoon tea.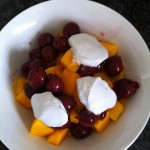 The girls are hooking into the mango smoothies, and Matt is eating them chilled straight off the cheek.
MANGO SMOOTHIE
1 Mango peeled and cut
then blend and chill.   Delish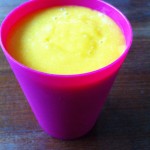 What is your favourite way to eat mangoes?
Do you have a great DF, GF mango recipe?