As I mentioned in my previous post, it's been a big couple of days in the red center for us. Not only was it the first time for all four of us girls to see Ayers Rock it also took the children about 20km (after we spotted it) before they piped up with great excitement "is that the rock?". Leading a healthy life isn't just about what we eat it is also about exercise, and this is the post where I will start documenting some of our physical activity. We try to exercise most days by walking or riding.
So back to our couple of big days in the red center. On our arrival to Ayers Rock which was at around 2pm we ate that delicious Banana and Ginger Cake that I had made the day before. This was our energy for what was to come. We rode our bikes around Ayers Rock (10.6km). The whole experience has been mind blowing, oh did I mention that it is one very BIG rock.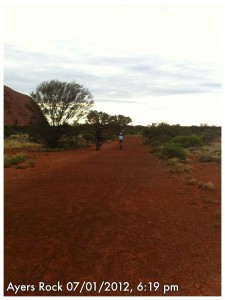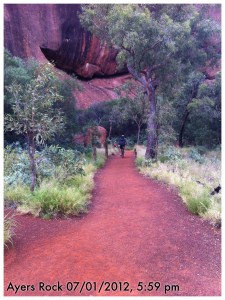 After a good nights sleep we rose early to watch the sunrise on the rock and to go for an early morning hike around the Olgas(7.4km). Once again the views were breathtaking and the weather was just right for hiking in.