As we travel around this wonderful country of ours we are trying to catch up with as many family and friends as we can. We are now in Western Australia enjoying the cooler weather without it being to cold even though the nights are quite chilly for us NT folk.  While staying overnight in Albany with on old family friend who lives on 4 acres, we acquired a fair bit of organic rhubarb and an organic zucchini.  What to make with them was the first thought that went through my head. Well the rhubarb had to be stewed first and then I can use it in muffins, cakes or even on my morning breakfast.
STEWING RHUBARB
I'm not sure how many cups of rhubarb I had in my slow cooker but it must of been around 6 to 8 cups, I also added 3 cups of water and 1 cup of coconut sugar. Turned the cooker onto high and left it be for a couple of hours until the rhubarb had softened and mixed together. This recipe is not a sweet one it is still a little tart. Just the way we like it. If you like it sweeter add more sugar.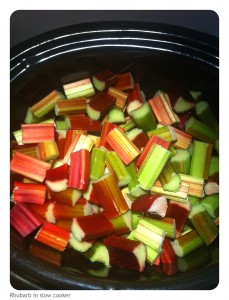 Now what to cook that is rhubarb flavored? I think I will try a muffin recipe. As for the zucchini I think we will use some of it for dinner and the rest can make me a zucchini bread to have for lunches.