We are heading out of town for the weekend and when we go away I like to do most of my prep work before I go so that I can enjoy the weekend away as well. Getting together with family and friends always means stacks of food and plenty of drinks. This is a nice light refreshing snack or meal that will keep nicely in the fridge for 24hours.
Fresh Spring Rolls
1 packet rice paper
Lettuce shredded
Carrot grated
Celery julienne
Sprouts
Fresh mint
Chicken breasts diced (you can use any meat or sea food)
Your favourite seasoning (I like herbamare seasoning)
Coconut oil for cooking
I don't have exact quantities on the ingredients because it all depends on how much of each you like in your roll. You can add any other ingredient or take out any, depending on your tastes.
Prepare all your salad ingredients and place them in individual containers so that you can put a little of each in your roll.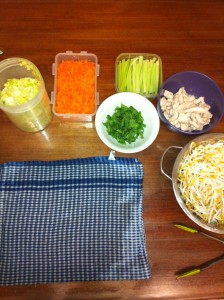 Dice your chicken breasts and coat in your favourite seasoning. Heat some coconut oil in a frypan or wok and cook you meat. Allow this to cool before you put together your rolls.
Follow the instructions on the packet of rice paper and make your rolls.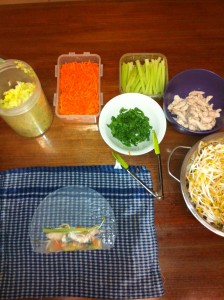 Dipping Sauce
2 Tbsp. Fresh Lime juice
1 tbsp. Fish sauce
1 tbsp. Water
1 tbsp. Sweet chilli sauce
2 Tsp Fresh grated ginger
2 cloves of crushed garlic
Crushed Almonds
Put all the ingredients into a jar and close the lid, now it's time to shake shake shake. You are now ready to sit down with your family and friends and have a magnificent feast.