Everyone hates doing the dishes, am I right?
We all love our dishwashers but we are not too keen on the chemical laden tablets and powders that we add to them to get our dishes clean and sparkly. Well here is a great chemical free recipe that will get your dishes spotless and clean without the harsh chemicals.
With the use of grapefruit oil to help get the grease and oil from your dishes, and On guard oil to help sanitise and kill all the germs. These dishwasher tablets will not only clean your dishes but your dishwasher and pipes as well.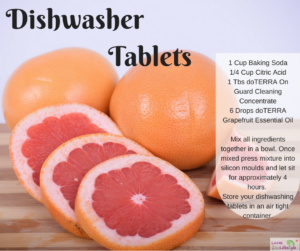 If you would like to purchase these Essential Oils or other products in our range, please click here