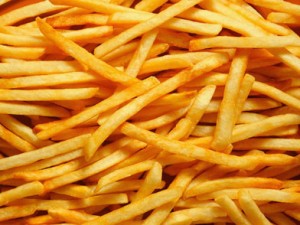 I'm a real fan of hot chips but since going gluten and dairy free I've discovered that most chips aren't what you would expect them to be. If you were like me you would think that a hot potato chip was made from just a potato. WRONG! Most hot chips also contain wheat. What they do is get the potato and mash it then they add flour to bulk it up then form these perfect looking chips. Tada!, we now have chips that contain gluten.  I was at a pub the other week and asked the lady taking my order what the chips were made of because I have  gluten intolerance's and she answered in a 'are you stupid lady' kind of voice "they are made from potatoes" so I naturally asked if that was it and if she could talk to the chef to confirm what she had just told me. The lady was quite obliging and went and spoke to the chef and on her return apologized and confirmed that they also contained flour. This goes to show that you should always question what you are wanting to eat.
After this episode I decided to do a little research on the fast food chains in Australia and find out what on their menu is gluten free. I have put links at the bottom of the page for you so that you can look at their menu and ingredients in all their food for yourself and make your own decisions. I hope that this quick reference point helps you decide which chips you are going to eat next time you are out and about looking for a quick snack.
http://www.subwayhfv.com/allergenchart.pdf
http://kfc.com.au/nutrition/allergen.asp
http://www.hungryjacks.com.au/menu
http://mcdonalds.com.au/our-food/nutrition
At the time of writing this article there wasn't any information available on the internet for Chicken Treat you will have to contact them yourself.