I'm a mum of 3 beautiful girls (Natalia, Tiana and Michala) and married to the most wonderful man (Matt).  We have been together since 1997 when I was fresh out of high school and just started a teaching degree (soon descovered it was not my thing), and Matt was working as a paving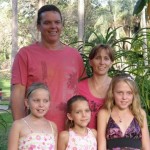 laborer.  Together for less than 2 years we welcomed our first beautiful daughter into our lives. This was a major turning point for us as we now had an extra person to think about and love. Over the next 6 – 12 months we decided to go into business for ourselves so that we had time to play the role of mum and dad to our daughter. This is when OWNING OUR OWN BUSINESS started. Matt paved while I stayed at home and looked after our daughter and did the book work. Twenty five months after we welcomed our first daughter into our lives we welcomed our second daughter. Twenty one months after that we welcomed our third daughter into our lives. That was enough kids for us!
In 2002 we switched from paving to retail. Starting off small and working our way up. Over this time I became very good friends with a lady and her son who both have an amine intolerance. I did my research and accommodated for them whenever we got together. From this freindship my interest in food allergies and intolerance started. I slowly modified my family's diet because we wanted to be healthier. Not to say we had a really bad diet but there was room for improvement! This is when I started number watching on all food labels and cutting out all preservatives and any number that has been known to cause adverse reactions.  Whether it be instant (ie. behavior) or long term (ie. chronic illness) we decided to remove these from our diet.  Over this same period of time Matt's increse in cycling and introduction to crossfit led him to discover the PALEO diet.
In 2012 we sold our retail business and hit the road, home schooling the girls and finding jobs where ever we wanted them. This turned into one of the best 12 months of our lives. We are now settled in the beautiful Sunshine Coast, where we have 1/4 acre that is now almost full with edibles.  Our lifestyle is one of love for ourselves and what we have around us.  Chemical free and as organic as we can possibly afford.
Being Chemical free lead me right into the beautiful world of dōTERRA essential oils and here is where I have found my true passion. I could talk to you all day about essential oils and diet. In fact that is exactly what I do with myself now. So if you would like to talk and have a free consultation head HERE and fill out the form.
I hope you enjoy my page and get some information to help you out in life's journey.