We headed over to a friend's place last night for dinner to celebrate her completion of one unit out of seven in her degree. Really it was just an excuse to have a get together, and the fact that she has rejected us for the past 3 weeks for dinner might have something to do with it as well.  Dee at the moment is on a strict paleo diet to rid her body of any toxins so the recipe that is attached will not have any added sugar. I do have to say that the pastry that I used is quite sweet and I will be working on a homemade pastry in the near future.
Mains were delicious purple cabbage coleslaw, green tossed salad and T Bone stake. Such a colourful dinner full of goodness.  Love having such great friends that you can sit around and talk and laugh with.
APPLE CRUMBLE
1 sheet pastry (I used THE PASTRY PANTRT pastry sheets)
1 tin apples 770g
1 1/2 tsp Cinnamon
1 1/2 tsp All spice
Punnet fresh blueberries
Crumble mix
1 cup walnuts
1/2 cup almond meal
1/2 cup rice flour
1/4 cup coconut oil
1/8 cup coconut sugar
1 tsp cinnamon
Defrost pastry and place in pie dish. Cook till golden brown. While the pastry is cooking prepare the filling. Place the apple, berries, cinnamon and all spice in a bowl and mix together. Set aside and start to prepare the crumble. Add all the crumble ingredients to a food processes and process till combined. When the pastry is golden add the apple mix and then the crumble on top and continue to bake till crumble is lushes golden and crunchy.
Serve with a little coconut cream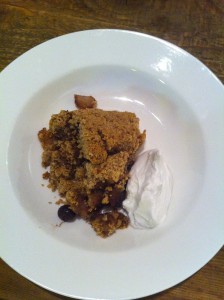 The food was awesome.  Thanks Dee and Shane for a fun night